President: Alba Vergés i Bosch, Consellera de Salut
1st Vicepresident: Maria Àngels Chacón i Feixas, Conseller d'Empresa i Coneixement
2nd Vicepresident: Joan Elias García, Rector UB
Secretary: Montserrat Figuerola Batista, Gerent de l'Àrea Metropolitana Sud de l'ICS
Chair: Joan Gómez Pallarès, Director General de Recerca
Chair: Albert Barberà Lluís, Director General de Recerca del Departament de Salut
Chair: Domènec Espriu Climent, Vicerector Recerca UB
Chair: Candela Calle Rodríguez, Directora General ICO
Chair: Cristina Capdevila Aguilera, Directora de Centre HUB
Chair: Josep M. Vilà Cortasa, President de l'Institut Català d'Oncologia
Chair: Núria Marin Martínez, Alcaldessa
Chair: Francesc Xavier Grau i Vidal, Secretari d'Univesitats i Recerca
Chair: Lluís Rovira i Pato, Director de la Institució dels Centres de Recerca de Catalunya (CERCA)
Chair: Iolanda Font de Rubinat Garcia, Subdirectora General de Recerca
Chair: Jaume Reventós Puigjaner, Coordinador d'Estratègia i Relacions Institucionals
Chair: Josep Batista Trobalón, Vicerector Personal Docent i Investigador
Ernest Arenas Cases, MD, PhD. Professor of Stem Cell Neurobiology & Chairman of the Department of Medical Biochemistry and Biophysics. Karolinska Institut, Sweden
Paolo Gasparini, PhD. Istituto di Ricovero e Cura a Carettere Scientifico maternoinfantile Burlo Garofolo, Trieste
Lisardo Boscà Gomar, PhD. Centro de Investigaciones Biomédicas Alberto Sols, Madrid
Robert Sackstein, MD, PhD. Professor, Harvard Medical School Director, Program of Excellence in Glycosciences. Physician, Brigham & Women's Hospital/Dana Farber Cancer Institute, Boston, MA, USA
Ana Aranda Iriarte, PhD. Departamento de Fisiopatología Endocrina y del Sistema Nervioso, Instituto de investigaciones Biomédicas "Albert Sols"
Sonia Martínez Arca, PhD. Directora Gerente Agencia de Conocimiento en Salud, ACIS
Program coordinators:
Cancer area:
1. Ramon Salazar (ICO/UB) – Molecular Mechanisms and Experimental Therapy in Oncology
2. Alex Vaquero (FIDIBELL) – Epigenetics and cancer biology
3. Xavier Bosch (ICO/UB) – Epidemiology, Public Health, Cancer Prevention and Palliative Care
Neuroscience area:
4. Francisco Ciruela (UB) – Neuroscience
Translational medicine area:
5. Eduard Montanya (HUB/UB) – Diabetes and metabolism
6. Virginia Nunes (FIDIBELL/UB) – Genes, disesase and therapy
7. Àngel Cequier (HUB/UB) – Cardiovascular, Respiratory and Systemic Diseases and cellular aging
8. Josep Manuel Llop (HUB/UB) – Digestive system, diagnostics, pharmacogenetics, care support and clinical prevention
9. Jordi Carratalá (HUB/UB) – Infectious disease and transplantation
Regenerative medicine area:
10. Ángel Raya – Regenerative Medicine
Extended Executive board
11. Òscar Martínez Tirado (FIDIBELL) – Representative FIDIBELL
12. Josep Maria Cruzado (HUB/UB) – Representative HUB
Other members:
13. Francesc Xavier Matias- Guiu (HUB) – Scientific director Biobank
14. Cristina Muñoz (FIDIBELL) – Miguel Servet and/or Ramon y Cajal researcher
15. Eva González (FIDIBELL) – ERC researcher
16. Ruth de Diego (UB) – ICREA researcher
17. Miquel Angel Pujana (ICO) – Oncobell member
18. Maria Antonia Perelló (Viladecans/UB) – Viladecans researcher
19. Oriol Casanovas (ICO) – ERC researcher
20. Montserrat Martín – Scientific director,  Consorci Sanitari Integral
*In 2018, the CMR[B] began a transition process to become a new research area
within IDIBELL, process that became fully completed in the end of 2019.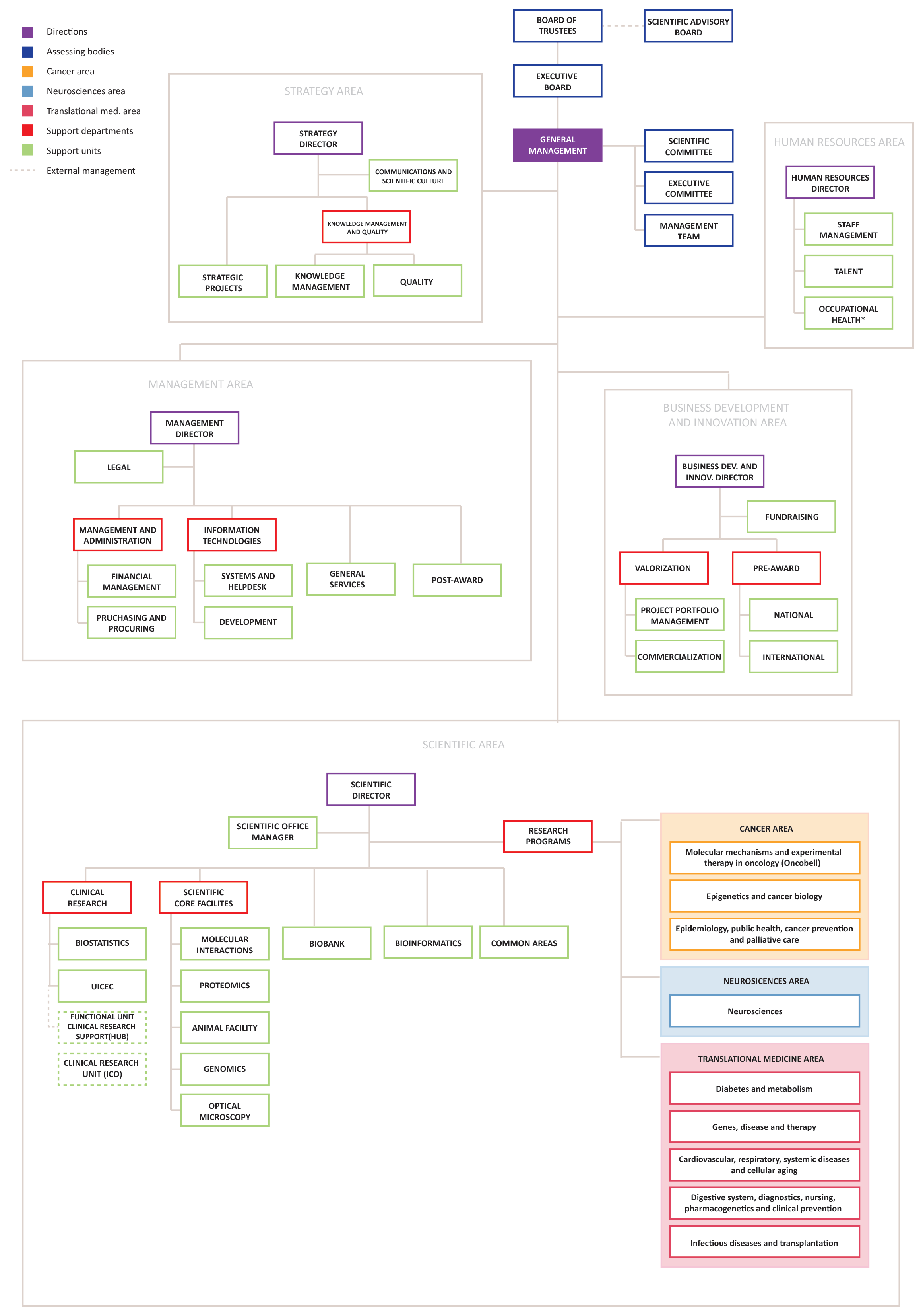 General director
Gabriel Capellá
Scientific area
Josep Manuel Menchón
Business development & Innovation
Raquel Egea